We're in our new location – early! We are now located at our new location at 2742 Old Lebanon Rd, Donelson, TN 37214 (in the old Donelson Taekwondo location). This is literally just up the street (Old Lebanon Rd, towards McNamara's). We are going to be closed for lunch everyday between 12:30 and 1:00 p.m. Come see us!
Nashville alterations specialists for wedding dresses, bridesmaid dresses, prom dresses, formal dresses, and men's suits & formal wear.
Alteration services for all men and women's clothing in Nashville, Tennessee and surrounding areas.
2742 Old Lebanon Rd. 
Nashville, TN 37214
(615) 885-9428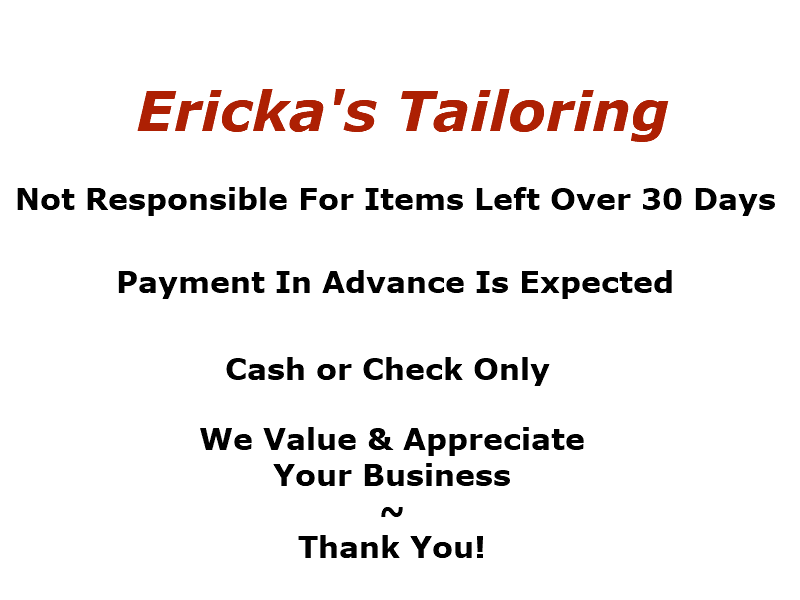 We will be closed for lunch daily between 12:30 and 1:00 p.m.  Please plan accordingly.  Thank you!
9 AM – 6 PM
9 AM – 6 PM
9 AM – 6 PM
9 AM – 6 PM
9 AM – 6 PM
Saturday:
9 AM – 5 PM
Sunday:
CLOSED
"So glad to have this place in my community. Margie and the rest of the ladies are amazing seamstresses. No problem can't be fixed. I've taken everything from jeans, dress pants, bridesmaids dresses, and blazers and all have been expertly tailored. When other tailors can't do it or take weeks Erikas tailoring always gets the job done and at a great price for amazing work."
"As a personal executive assistant it is part of my job to know the best places to go for tasks such as tailoring/alterations and Ericka's is hands down the best Ive come across as well as the only place I go to in Nashville. It is located in a shopping center that is somewhat off-putting (curb appeal) but thats the only downfall. They are family owned, kind, understanding, and very hardworking. The price is unbeatable and the turn around time is unbelievably fast!…"
"My wedding gown was very tedious but they did an amazing job, and the customer service was beyond what I've ever had. You can't go wrong bringing your items here!"
"I had several shirts, some pants, and a few winter coats altered. They turned out great, and the price was very reasonable, as well."