Click the image to open Augmented/Virtual Reality
Ericka's Tailoring was first opened on Lebanon Rd. in Donelson in 1993 by Margie Rodriguez (Ericka is her daughter). Margie was born in the United States in Nogales, AZ, but moved to Mexico at the age of 2. She lived in Mexico as a child and started sewing at 14, returning to the U.S. at the age of 15 and opened her first alterations shop in San Jose, CA in 1980. After 13 years having her own alterations shop in California, she moved to Nashville and opened the shop here in Donelson. Ericka's Tailoring moved to Donelson Plaza in 2000, and remained at the same location until 2018, when the plaza was being remodeled. We are now at 2720 Old Lebanon Rd., Suite 101, in the small center next to Donelson Plaza. As a member of the local Donelson business community for over 29 years, and being a strong supporter of Donelson charities including police benevolent activities, McGavock H.S. sports, and local medical equipment sponsorship for needy patients, Ericka's Tailoring continues to be a strong force in the Donelson business community. With 58 years experience in alterations, Margie Rodriguez has survived problems in business encompassing everything from the recent pandemic, being forced to relocate amid remodeling chaos, and employee turnover – even including those sabotaging her reputation, stealing her customer list and calling them soliciting their business in an effort to start their own shop. Small businesses and alterations shops come and go, but Margie has been in Donselon for 34 years and is still in the shop, working as hard as possible to meet your alterations needs. She would happily welcome seeing her many longtime and loyal customers again as well as new clients who want to see the difference that 58 years of sewing experience can bring to their alterations results. Come see her today!
No alteration pricing information is available on the website.  For general pricing guidelines and wedding gown fitting appointments, please call (615) 885-9428.  An exact price for an alteration can only be given after viewing the garment in person.  A fitting appointment is only required for wedding gowns, all other alterations (including prom and bridesmaid dresses) do not require a fitting appointment – just come by during business hours at your convenience.  
Se Habla Espanol
Nashville alterations specialists for wedding dresses, bridesmaid dresses, prom dresses, formal dresses, and men's suits & formal wear.
Alteration services for all men and women's clothing in Nashville, Tennessee and surrounding areas.
2720 Old Lebanon Rd. Ste 101
Nashville, TN 37214
(615) 885-9428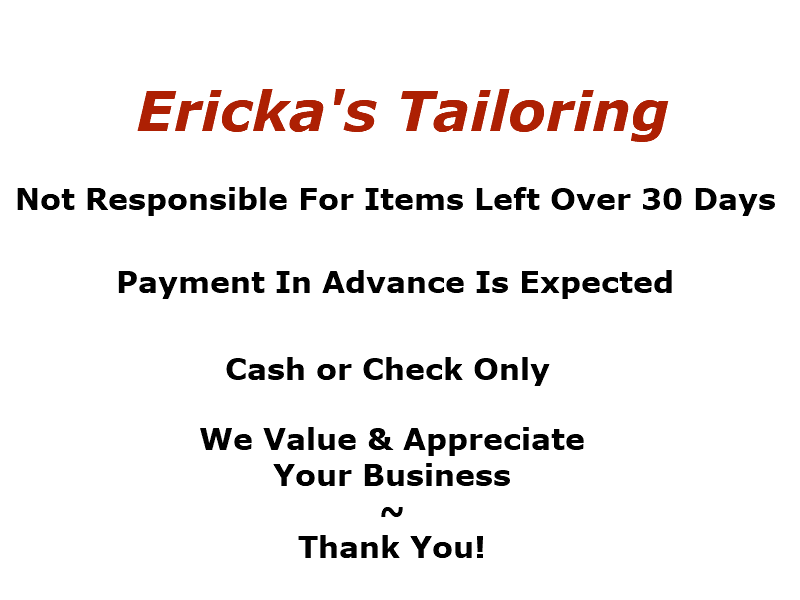 Hours
9 AM – 6 PM
9 AM – 6 PM
9 AM – 6 PM
9 AM – 6 PM
9 AM – 6 PM
Saturday:
9 AM – 5 PM
Sunday:
CLOSED
"So glad to have this place in my community. Margie and the rest of the ladies are amazing seamstresses. No problem can't be fixed. I've taken everything from jeans, dress pants, bridesmaids dresses, and blazers and all have been expertly tailored. When other tailors can't do it or take weeks Erikas tailoring always gets the job done and at a great price for amazing work."
"As a personal executive assistant it is part of my job to know the best places to go for tasks such as tailoring/alterations and Ericka's is hands down the best Ive come across as well as the only place I go to in Nashville. It is located in a shopping center that is somewhat off-putting (curb appeal) but thats the only downfall. They are family owned, kind, understanding, and very hardworking. The price is unbeatable and the turn around time is unbelievably fast!…"
"My wedding gown was very tedious but they did an amazing job, and the customer service was beyond what I've ever had. You can't go wrong bringing your items here!"
"I had several shirts, some pants, and a few winter coats altered. They turned out great, and the price was very reasonable, as well."